Welcome to Monona Veterinary Hospital P.C.
Your Veterinarian in Monona, IA
Call us at (563) 539-2299
"Ginny", "Cooper", and "Dixie" welcome you to Monona Veterinary Hospital. We are thrilled you have taken the time to explore our website. Here at Monona Veterinary Hospital our veterinary staff is dedicated to caring for your pets with the same attention and love we give to our own pets.
From our cheerful welcome when you walk in the door, to the professional, compassionate attention your pet recieves from Dr. Chris Jensen and staff, Bonnie and Pam you'll know your in the right place.
Everyone at Monona Veterinary Hospital understands from our own experience the special bond that forms with our pets, they become our children. We're committed to providing top-notch state of the art medical, surgical, and dental care. We enjoy being a part of helping your pets live long healthier lives.
It is our honor to welcome you to Monona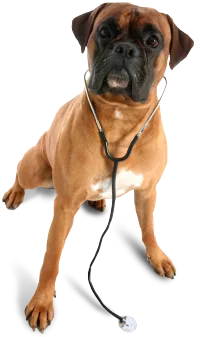 Veterinary Hospital, and to offer you and all of our visitors the most excellent care possible. Everyone is welcome to stop in and tour our hospital at any time.

Browse around and look at our articles and pet videos. If you want to ask a question call or email us and we'll promptly get back to you.

We at Monona Veterinary Hospital P.C., are dedicated to keeping your pet healthy and comfortable, enabling you to enjoy the special wonders a pet adds to your life.
Dr. Chris Jensen
Monona Veterinarian | Monona Veterinary Hospital P.C. | (563) 539-2299
e-mail [email protected]
20593 125th St
Monona, IA 52159